Kbalromeas is the only village affected by the Lower Sesan II Dam project that refuses to relocate and overcomes difficult challenges to restart their lives on their ancestral domain, capable of preserving their land and traditional culture. Their struggles drew the attention of the national and international communities, as well as the Cambodian government, resulting in their issues being resolved in accordance with their demands.
Inundated houses, floating soul
The information concerning the construction of the Lower Sesan 2 dam, which was approved in 2012, had been heard among the residents living along the river, and it had raised fears about forced relocation. Following an investigation visit to the dam construction site conducted by the Cambodian National Assembly's Environment Commission in March 2015, Kbalromeas villagers received an official information letter about the resettlement process from the inter-ministerial Committee for Resolving Compensation (CRC). The villagers recognized at the time that relocation was unavoidable. Srekor and Sresronok villages, as well as the communities along the Srepok river, a Mekong tributary, have agreed to leave.
Despite the fact that resettlement sites had been built to accommodate the relocated people, 52 Bunong households in Kbalromeas village refused to move in because they could not leave their ancestral domain, where they had lived for a long time. The authorities would be enraged by their refusal, but it was their decision, and they have the right to refuse any project that has harmed their livelihood.
They did not abandon their community because of the flood; instead, they overcame the consequences that occurred as a result of the floods. "Our house was submerged by the water, but that doesn't mean it killed our indigenous soul." "Our ancestors have passed on their strengths to us from generation to generation, so as long as we're alive, a flood won't be able to hurt us," said Samnang, a Bunong youth who refused to be resettled.
Due to their struggles and obstacles, the villages frequently faced additional accusations that they were the government's opponent. As a result of their unwillingness to leave their land, the community has been subjected to a variety of intimidation, including threats from the government, judicial harassment, and most crucially, a lack of access to basic public services.
Countless petitions they submitted to the government in an attempt to have their issues addressed had been ignored; yet, they were not hopeless. Their worries had been expressed and their voices had been heard by the national and international communities.
In December 2018, Cambodian Prime Minister Hun Sen officially unveiled the approximately 11-year-long dam development. The dam gates had been closed, and the deluge was on its way. The people who refused to leave the flooded village were mocked by several half-villagers who decided to relocate.
Villagers moved their submerged villages to a higher location, not far from the flooded area, in order to quickly adapt to the flooding that hit their homes.
Hope never fades
Kbalromeas residents appeared to see the light shining on their land after Prime Minister Hun Sen declared permission for them to dwell in their homeland. This permission had permitted them to use their traditional land, which meant that their livelihood would improve.
Starting from the ground up, the villagers of Kbalromeas have rebuilt their houses through mutual help in accordance with customary laws. Along with developing new homes, the community is also helping to preserve its natural resources, which span over 7,000 hectares, from being exploited by outsiders. While they struggle to make a livelihood after their entire village was submerged, some activists who pioneered in claiming their homeland and defending the community are accused of resisting the government's development project, and their case is still pending in court.
They have faced not just difficulty in securing food but also concerns that their collective land would be encroached upon by others, particularly a company that says the community has usurped their land.
Building solidarity and unity among their members was the only thing that they could do after their homes had been submerged.
CLT: The only way to secure the land
Following the Prime Minister's authorization to live in their homeland, community members hoped that this was the way they would be able to live within their land without fear of being threatened by local authorities, and they would be able to live their lives in accordance with their traditional ways. Resuming their livelihoods, which have been severely impacted by the dam, they have faced several problems such as a lack of clean water, infrastructure, health care, and the possibility of losing their natural assets.
Although most of their land is underwater, they still have vast swaths of land rich in wildlife, forest, and fisheries. All of these are the sources of their existence, and they are dedicated to preserving these resources for future generations.
The community now has a legal entity from the Ministry of Interior stating that they have the right to manage and defend their land, and they are preparing documents to file for collective land title. It's the only way they'll be able to safeguard their natural resources.
Their struggle has demonstrated an example of solidarity that other communities could follow.
Livelihood Improvement and indigenous identity preservation
The community was able to obtain some financial resources for its rehabilitation plan thanks to CIPO's efforts and the community's self-determination, in which the funding from SELAVIP and UNDP has substantially improved their living condition, notably the health and sanitation issues they have faced since settling in the new location. To meet their everyday needs, solar panels and clean water systems have been installed. This funding is making a significant difference in their lives. A road, a pond, and a health center have also been built by the government.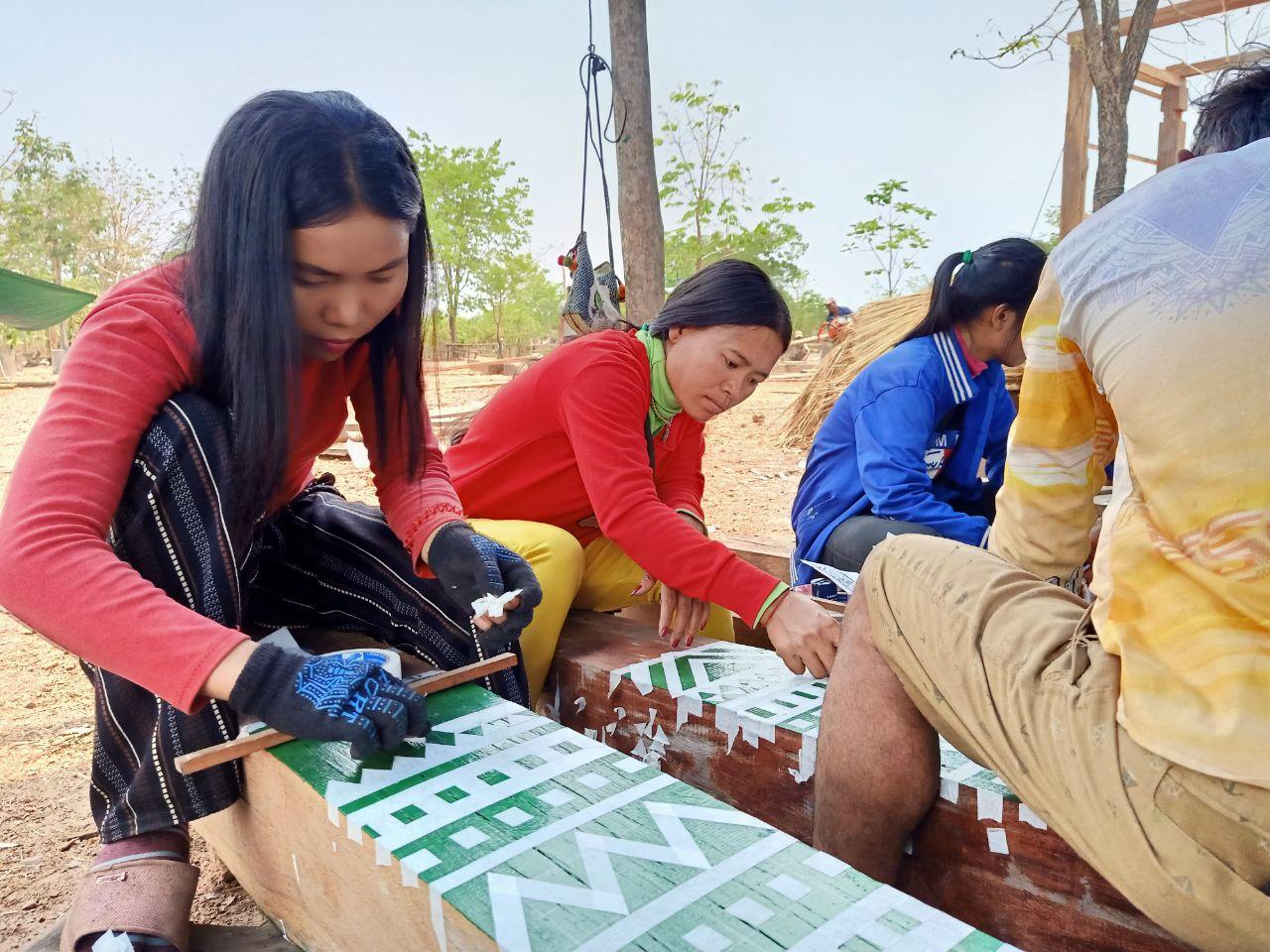 The Bunong identity was almost lost to the flood because some of their religious sites, spiritual forest, and sacred forest were washed away; however, they have banded together to rebuild their religious monastery, map spiritual and sacred forests within their land so that they can practice their traditional culture, and even preserve their identity as Bunong indigenous.
A cultural center and some traditional houses have been built using indigenous patterns and styles as part of indigenous traditional preservation, and will eventually become a model village.
Even though their collective land has not yet been completely registered as a collective land title, they are now able to manage their land, practice traditional agriculture, and produce primary maps and documents in order to apply for a full collective land title as defined by law.