More than 400 national and international participants took part in the virtual launching ceremony of Cambodia's national report on the demographic and socioeconomic status of indigenous peoples, which was co-organized by the Ministry of Planning and the Ministry of Rural Development, with technical assistance from Cambodia Indigenous Peoples Organization (CIPO), Cambodia Indigenous Youth Association (CIYA), Highlander Association (HA), Organization for the Promotion of Kui Culture (OPKC), Conserve Indigenous Peoples Languages (CIPL), Cambodia Indigenous Women Association (CIWA), Indigenous Peoples for Agriculture Development in Cambodia (IADC), and Indigenous Rights Active Members (IRAM)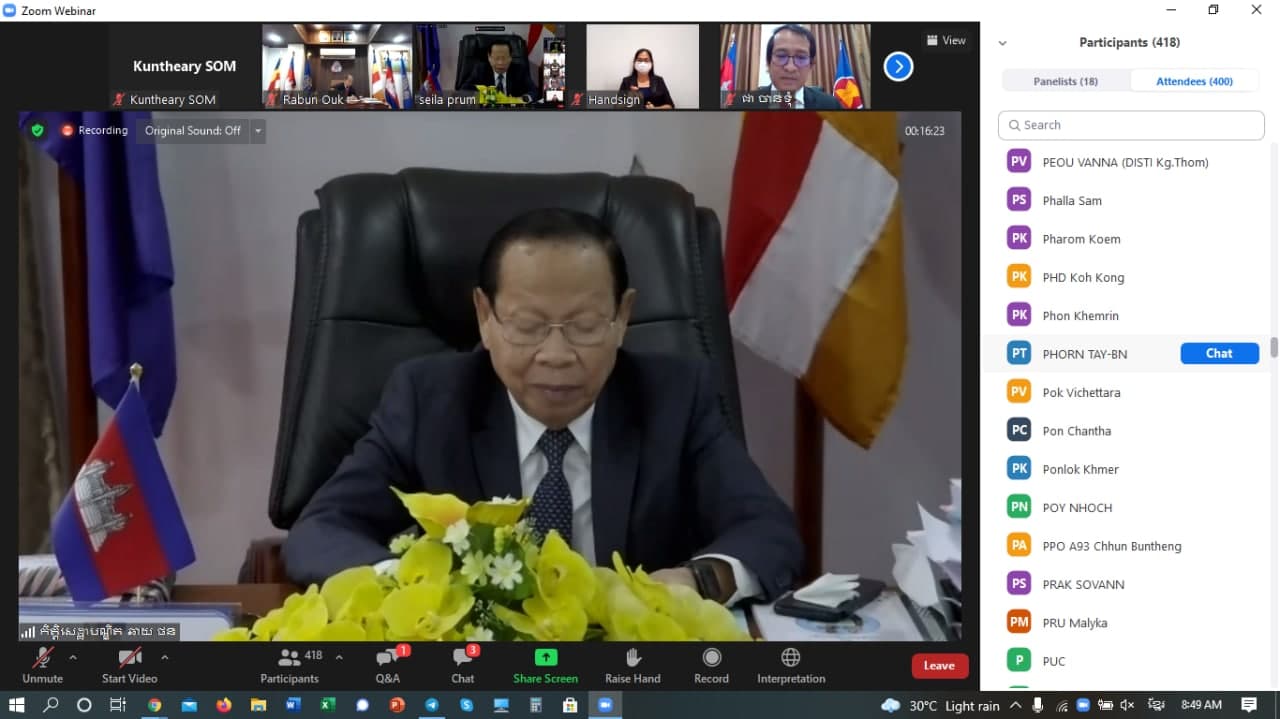 According to the statement delivered by Pheap Sochea, representing Cambodia's indigenous organizations, The National Report on the Demographic and Socio-Economic Situation of Indigenous Peoples in Cambodia was initially begun from the results of a national reflection workshop on the progress of the implementation of the National Policy on Indigenous Peoples' Development on 11-13 January 2017, with financial support from the Department on United Nations Economic and Social Affairs (UN-DESA) with the participation of leaders from 16 relevant ministries and institutions, including representatives of provincial authorities, representatives of six indigenous and indigenous organizations and national and international organizations such as UNDP, UNDESA, UNFPA, UNOHCHR.
The report has now been released to the public, thanks to the Ministry of Planning and Ministry of Rural Development's collaborative efforts and the assistance of relevant stakeholders. It is the first time that the Cambodian government has released a significant report on the situation of Cambodia's indigenous peoples.
The report will serve as a guide for the government, development partners, CSOs, and IPOs to use for various purposes, particularly for the government in planning other development programs that fulfill the requirements of indigenous populations.
The following are some of the report's key points:
Indigenous identification: according to the report, Cambodia has 22 different groups, accounting for a total of 179,193 populations, or approximately 1.34 percent of the total population in 2008, and 183,831 populations, or about 1.25 percent of the total population in 2013 (annual growth rate is 0.51 percent). Tumpuan, Bunong, Kroeng, Kui, Jarai, and Brao are six of the 22 groups with populations over 10,000, accounting for 88 percent of the total indigenous peoples. Even though indigenous peoples can now be found practically almost all over the country, around 92.4% of them live in just six provinces: Ratanakiri, Mondulkiri, Kratie, Stung Treng, Kampong Thom, and Preah Vihear.
Indigenous Demographic Status: Indigenous peoples under the age of 15 account for 37.4 percent of the population, while working-age has climbed at a 1.23 percent annual rate between 2008 and 2013. The 18-35 age group accounts for 28.8 percent of the population, while the 36-59 age group accounts for 17.8 percent. The proportion of people above the age of 60 is 5.4 percent. Indigenous households, with an average of five members, are larger than Khmer households. The proportion of households with a female head of the family is 22%.
Education Status: Indigenous peoples have little access to education due to low enrolment and school dropout rates. About one-third of the population can read and write Khmer (an estimated 33.8 percent of those over the age of 15), whereas men have a greater literacy rate. Almost half of the indigenous children do not attend school. 66 percent of persons over the age of 15 have not completed any basic education, whereas 24.1 percent have completed primary school. 10% have completed secondary education, and 4% have completed high school.
Employment and Economic Status: The rate of active economic engagement is high, with males accounting for 87.7 percent and women accounting for 85.5 percent. People over the age of 15 work in agriculture, accounting for 93.3 percent (90.6 percent are men, and 95.9 percent are women), with the industrial sector accounting for 1.6 percent (1.8% is a man and 1.4% is a woman). Only 5.1 percent work in the service sector, with 7.6% men and 2.8% women.
Health and Hygiene: 53% of births are delivered at home, whereas 38% are delivered in a hospital. Only 6% of mothers visit a health center to have a baby delivered. Indigenous mothers exclusively breastfeed their children under the age of 2.
Housing and Property: In 2013, 95% of indigenous families owned their own houses. Oil lamps and battery or electric generators are used by the majority of them (20.6%). Cooking is done with firewood in 95% of the cases. A third of the household has a television. 76.1 percent own a motorcycle, 2.2 percent own a car, 9.1 percent own a hand tractor, 7.8 percent own a boat, and 37.4% own a bicycle.