CAPACITY DEVELOPMENT INDIGENOUS PEOPLES
Establish to enhance Indigenous Peoples Youths capacity building.
Koem Bunthang
Provincial Coordinator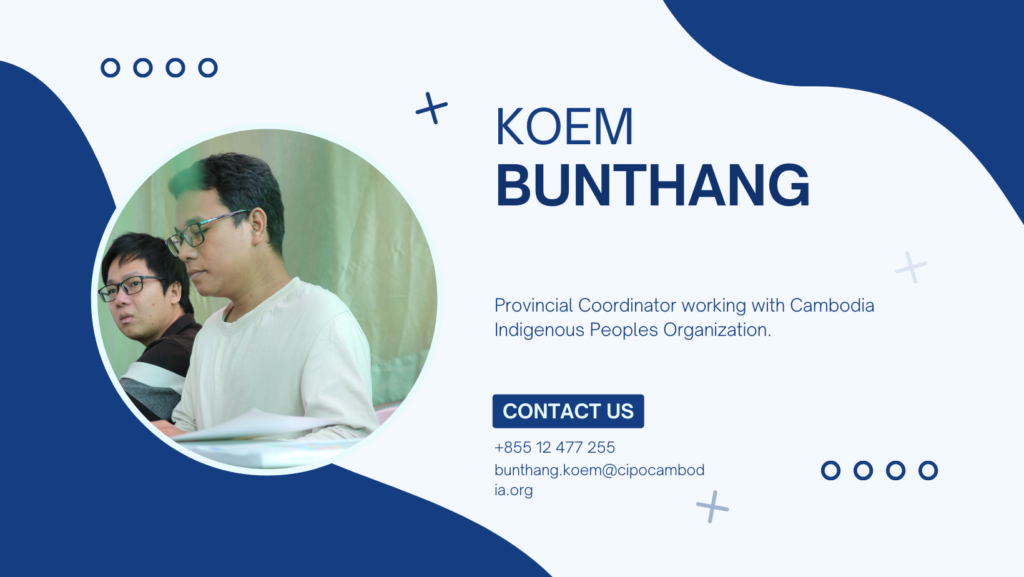 Mr. Koem Bunthang is a 35-year-old belong to Indigenous Kui from Pal Hal Village, Sangkat Pal Hal, Preah Vihear Province. He has graduated from Western University's Associate Degree program in the major of English Teaching. 
He has extensive experiences working with various NGOs and Private sectors. He is currently working as an Indigenous Community Development Officer at Cambodia Indigenous Peoples Organization (CIPO). Bunthang is director of Pteaskomchei FLC, Micro-loan 2021 until now.
He worked with Ponleu Ney Kdey Sangkhoeum, which he served as a community-led development motivator and a member of Monitoring and Evaluation technical working group with 11 NGOs in 2020. He worked with Medicines Frontiers France on a Hepatitis C project in charge of Medical Data Processing in 2018 to 2019. Besides, he taught English at Cambodia Organization for Research Development and Education in Preah Vihear province from 2006 to 2009.